Executive summary of current TV options to aid you in your next purchase.
I. Overview of Current TV Options
 i. LED vs OLED — "Plasma is dead" [1]

http://www.pcmag.com/article2/0,2817,2372085,00.asp
OLED, short for organic light-emitting diode, is an LED with a built-in backlight. OLED works best for TV and darker images rather than white backgrounds that computers use. OLED can achieve 100% darkness whereas LED cannot. OLED is far pricier than LED at this point and similar to plasma in many aspects.
In contrast to LED, an OLED can achieve higher contrast and showcase darker colors better — as the hippies would say organic is better. OLED also has higher refresh rate, brightness, power efficiency, and allows the display to be curved!
The disadvantages of OLED are in lifespan as the organic material degrades faster than an LED. This degradation affects color balance of blue pixels especially however manufacturers employ control software to slow this issue. The lifetime of OLED is currently greater than 2083.3 days of watching until degrading to 50% brightness.
 ii. 4K (UHD, 2160p) – YES YES YES
4K is resolution above 3,840-by-2,160. The standard is adopted by HDMI 2.0 cables and Netflix allows certain shows to be streamed in 4K. Cable seems to be far behind but we would recommend 4K as a staple of a new TV you purchase
 iii. 3D=
This is dying technology. Content is sparse and initiatives from ESPN and DirecTV are being axed.[2]http://www.cnet.com/news/cnets-guide-to-3d-tv-what-you-still-need-to-know/
 iv. Curved – still bleeding edge and not mandatory [3]

http://www.trustedreviews.com/opinions/curved-tvs-the-pros-and-cons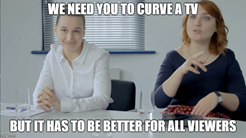 Creates an optimal sitting area at the cost of other viewing angles and minor distortion. On larger TV's, 62in+, it can be subtle and enhance the quality. Requires OLED technology.
 v. Smart TV vs Streaming Media (Roku, Apple TV, etc.)
Not essential to have a smart TV. An Apple TV is a better bet than being sold on a "Smart TV"[4]http://www.tomsguide.com/us/smart-tv-faq,review-2111.html. Many vendors are bundling Roku as part of their TV's. Amazon's Fire Stick is particularly good too.
 vi. Size –- approximately 55in to 70in

II. Recommendations
Your next TV purchase comes down to OLED vs LED. We recommend you look at Vizio M65-C1, LG 65EF9500, and Samsung UN65JS8500 at Best Buy in order to compare LED vs OLED. Both of those options are considered top of class. Would recommend purchase at Best Buy after price matching.
In summation: a 65-inch LED TV, with 120 Hz refresh rate (low "input lag" in reviews)
Or a 65-inch OLED TV (naturally faster refresh rate) which will run you $2000 higher.
III. Questions?
For a more general version of this comparison I recommend you view http://www.pcmag.com/article2/0,2817,2372085,00.asp. Post specific questions at the bottom and I will get back to you as soon as possible