Earlier in the month, I posted a picture on social media comparing fantasy football team points compared with their draft position.
Would you believe 4th pick is the worst spot in a fantasy football draft? Early data I'm acquiring is painting that picture #fantasyfootball pic.twitter.com/z8z7Zebgiv

— Person (@ergosum_person) July 24, 2017
I thought I found a clear pattern that could help fantasy football managers use data to understand that the 10th pick is actually not that bad in a snake draft.
The plan was simple. Download samples from 2008 to the present on fantasy football and create a quick "fact sheet" for people to use going into the draft. Once I got more data I realized my original plot was lucky and simplistic.
The real data is far more dependent on the quality of players.
A Quick Look into Fantasy Football Team Stats
Here's a list of things I've found — it's small:[1]All the analysis is done samples from 10-team public leagues on Yahoo Fantasy Football.
Draft position alone doesn't mean much without accurate player rankings
~11 roster moves is the sweet spot
Draft Position versus Fantasy Points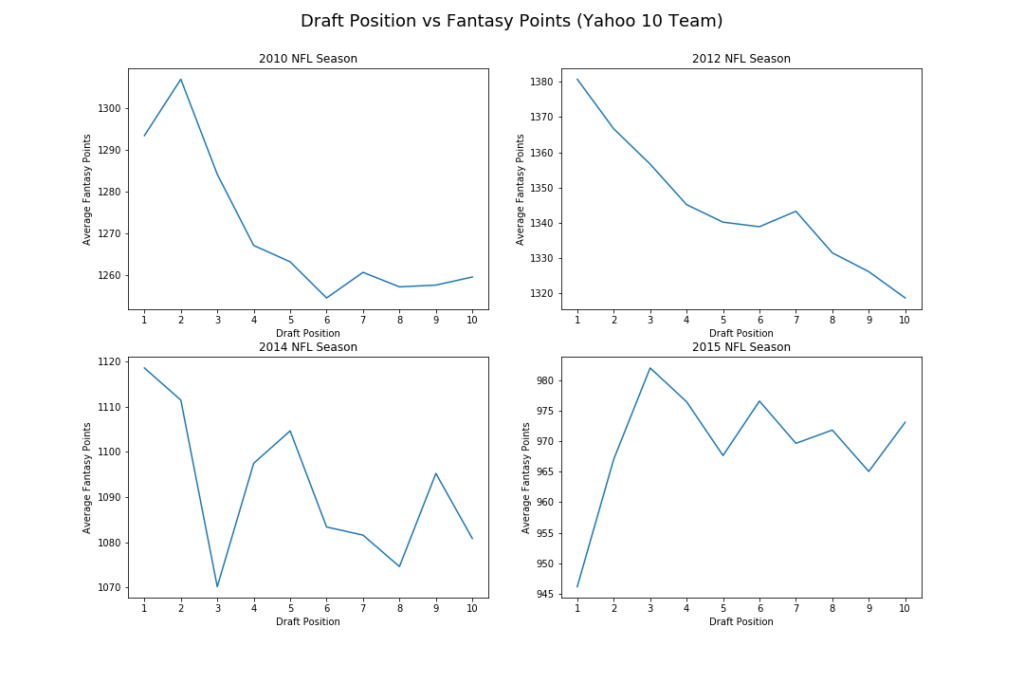 In the 2014 season, the first pick was right but in 2015 Le'Veon Bell, the consensus first ranked pick, went out for the season with a torn MCL.
Draft position is a lot more nuanced than I first thought. To do solid analysis we'd need data on pre-draft rankings and fantasy player scoring. It's out there but would take a while to acquire
Roster Moves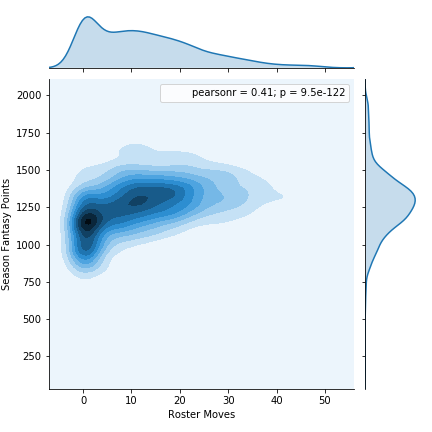 Takeaways I see:
The best teams have ~11 roster moves — look at the shaded spots with the most fantasy points

Correlation is not causation! This is probably because managers have to compensate for bad teams by increasing the number of moves.

Teams that make no roster moves could do better by making a few moves
You probably won't have the best team if you make over 12 moves but you can still be good.
Additional Thoughts
Like I said, I was hoping to use the data to learn more. I think it's possible to go more into draft results but you'd need data[2]Read my sports data guide on how fantasy players performed versus pre-draft rankings (Here's a good place to get started http://fantasyrundown.com/2016-fantasy-football-rankings/ change the year in the url to see more).
If you want to take a look at the data yourself
References

↑

1
All the analysis is done samples from 10-team public leagues on Yahoo Fantasy Football.

↑

2
Read my sports data guide