Hi everyone. It's been a while since I posted on here.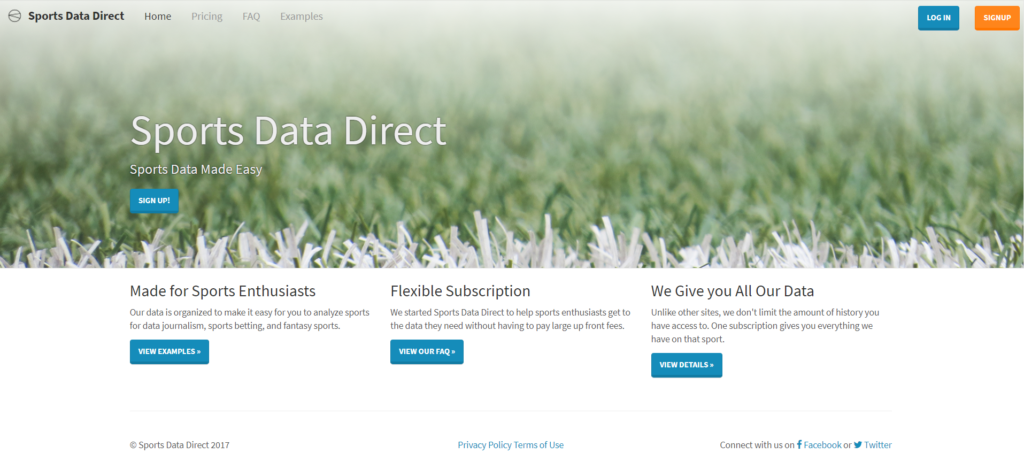 Today, I'm happy to share that I've launched Sports Data Direct. A sports data service for the NFL, NBA, NHL, and MLB.
Go give it a look and let me know what you think. So far it is NFL only. Some of the highlights:
Historical spread information since 2011
Some examples to get you started

How to create and test spread betting models,
A Lineup Optimizer for Fantasy Football/Daily Fantasy Sports

Stats all the way from 1920-today
Less Sports Content on Ergo Sum
From listening to my readers, I've decided that the content on here wasn't diversified enough. Going forward I'll only post the best articles from Sports Data Direct's blog on Ergo Sum.
If you love sports data to death, bookmark Sports Data Direct's Blog. I'll be posting weekly Daily Fantasy Recaps using market basket analysis as well as sharing my latest predictions. Since 2000, I've got an algorithm that predicts NFL winners 65% of the time which is pretty cool but not quite good enough to bet with yet.
That's all for now, expect to see more stuff and non-sports related posts coming soon. Like last month's reflection that I still haven't written yet. (teaser: Search Traffic is "booming" relative to July)