I think I was a bit too ambitious last month.
I was hoping to grow from 374 pageviews in June to 1500 in July and for one of my posts to go viral on dataisbeautiful.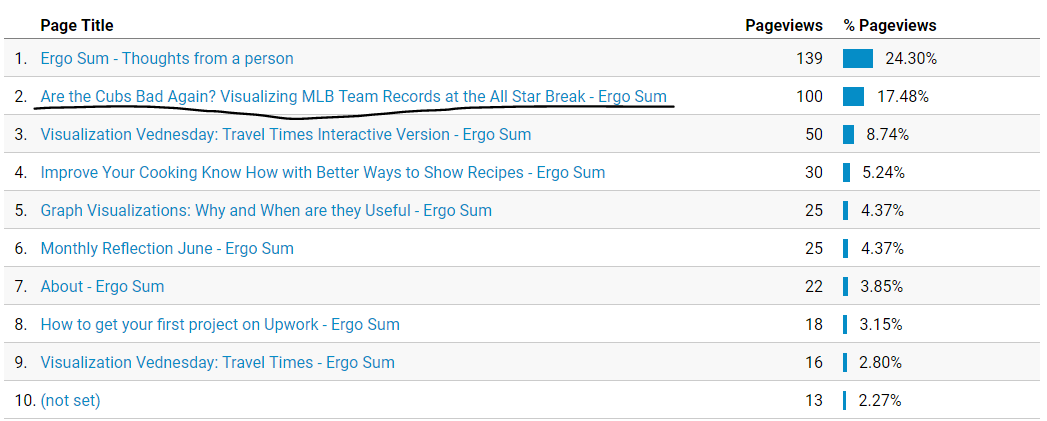 The article about the MLB ended up doing pretty terrible on dataisbeautiful. On the brighter side of things, cross posting to /r/visualization and /r/datasets helped me gather 2 email opt-ins for Sports Data Direct — the sports data service I'm starting (NFL, NBA, MLB, NHL). This experience got me thinking more about targeting.
Understanding audiences is more important than audience size
/r/dataisbeautiful is a huge subreddit on reddit1)if you don't know what reddit is think of it as a crowdsourced site of trending topics. but I only got 2 upvotes on my post. On /r/visualization I got ~10 upvotes with similar page views.
| | | |
| --- | --- | --- |
| Subreddit | Subscriber Count | Normalized |
| /r/dataisbeautiful | 12,164,017 | 0.998471595 |
| /r/visualization | 18,620 | 0.001528405 |
I mean, I know targeting is important but I didn't realize it could be that profound. /r/visualization is ~0.1% the size of dataisbeautiful but I did 10x better in terms of upvotes!2)Another factor is the volume of posts submitted to dataisbeautiful. It's much easier to be knocked off the front page there.
That must be because the way I wrote the article was much more suited to people who like visualizations than those who just want to argue about data over on /r/dataisbeautiful. Namely, the visualization was terrible on mobile, a bit complicated for the casual viewer, and it didn't lend itself to controversy. I plainly described the facts.
This experience got me thinking. The probability of someone engaging with my content was orders of magnitude greater based on where I posted. I need to do this with fantasy football.
Ownership is important in Daily Fantasy Football
In daily fantasy, you compete against hundreds of thousands of lineups in the hopes of being in the top 20%. Last year, I paid no attention to how players would be owned on different lineups. Combining a QB-WR pair, stacking as it's called is very common, because they are heavily correlated — which reduces your risk per expected value like the efficient frontier from economics.
In daily fantasy, you can use information on how the other players make their picks by increasing your expected finish versus probability of occurring. When everyone stacks their QB and WR, you can expect to finish higher by picking a contrarian lineup. A lineup that does well when most don't.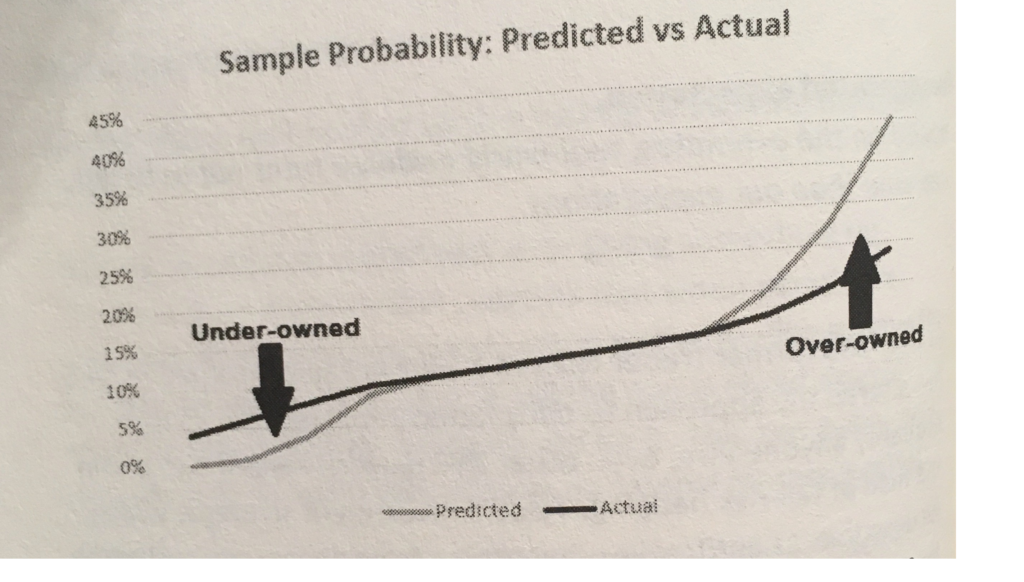 In Jonathan Bales book Fantasy Football for Smart People, he connects ideas from a Nobel Prize winning economist and a famous contrarian thinker to get ideas on creating fantasy lineups. Using Nassim Taleb's "Fat Tails idea", Bales shows the tendency of people to underestimate the frequency of very rare events to create a barbell strategy.
For more reading on this, check out my cognitive psychology book reviews.
July Highlights
Having Jonathan Bales say my knowledge graph drawing was cool — although only 1 person I told knew who the hell he is.
Launching Sports Data Direct

Up to 4 email opt-ins so far (non-paying customers). They signed up to hear when I was ready to launch

Redid my front page to encourage user engagement over pageviews
Changed my newsletter provider to Mail Chimp

This will let me send better looking newsletters/emails
And finally see the stats on how well my emails are working

Adding google analytics to my visualization server http://www.viz.ergosum.co
Published a series of guide posts
My Stats for July
| | | | | |
| --- | --- | --- | --- | --- |
| | July Goals | | | |
| Channel | Count | Metric | Reached | Actual |
| Quora | 50000 | Views | NO | 25,000 |
| Quora | 100 | Upvotes | NO | 83 |
| Quora | 5 | Additional Follows | YES | 5 |
| Email | 10 | Signups | YES | 10 |
| Blog | 1440 | Page Views | NO | 574 |
| Twitter | 10 | Additional Follows | NO | 5 |
| Facebook | 25 | Additional Follows | NO | 10 |
| Reddit | 50 | Karma | NO | 40 |
| Amazon | 3 | Affiliate Sales | NO | 0 |
| Blog | 10 | Posts | NO | 7 |
As you can see, I only hit two of my goals. A bit disappointing but I think I was too ambitious.
I've given up on Quora. The site seems to promote personalities over accurate answers and I don't think I'll be able to gain a big enough following for the effort it would take. Besides that, Quora adds noreferrer tags to all of their links which makes it a pain to see how many of my viewers actually came from Quora.
And besides, Quora uses what I write to monetize their site through ads without giving me anything back. Quora just isn't worth it for me as a blogger right now. I'd rather keep my content exclusive and on this blog.
Quora mini-rant aside, my page views kept growing, showing me that the Facebook post wasn't just a big burst of uninterested people. However, I'm starting to realize page views are a pretty cruddy metric. Understanding you, my audience and viewers, is the most important piece of this blog.
Next month I'm going to start paying more attention to user retention. Here's a look at my user retention to date.

I'm starting to get to the point where I can see if I've gained followers from my Facebook post (June 26th) and my LinkedIn post (July 11th).
So far my Facebook friends have been great so cheers to you guys and gals.
Looking Forward to August
| | | |
| --- | --- | --- |
| | August Goals | |
| Channel | Metric | Count |
| Blog | Page Views | 1000 |
| Blog | Monthly Users | 300 |
| Email | Signups | 5 more |
| Twitter | Additional Follows | 5 |
| Facebook | Additional Follows | 5 |
| Reddit | Additional Karma | 50 |
| Amazon | Affiliate Sales | 3 |
| Blog | Posts | 7 |
| Sports Data | Customers | 10 |
I really wanted to hit my goals last month. My goal was 1500 pageviews but I only got 572. After that MLB piece didn't have the viral affect I was hoping for, I started brainstorming.
I started thinking about writing click-bait articles. You know. Writing controversial pieces/visualizations in current events that I don't care about. Buzz Feed style.
But after a lot of thought, that's not what I want for this blog. If I go that route I'll end up being another sleazy media outlet that only cares about what they "can say" and not making interesting things.
The only way I'll be able to make what I want to do, make money from Sports Data Direct, and sell books on Amazon through affiliate links3)I assure you, I've purchased all the books on my book reviews and they are my honest reviews. A lot of books I've bought aren't on their because they are just not good books. is if I start to become an authority.
The joke is everyone who knows me knows that I have problems with authority.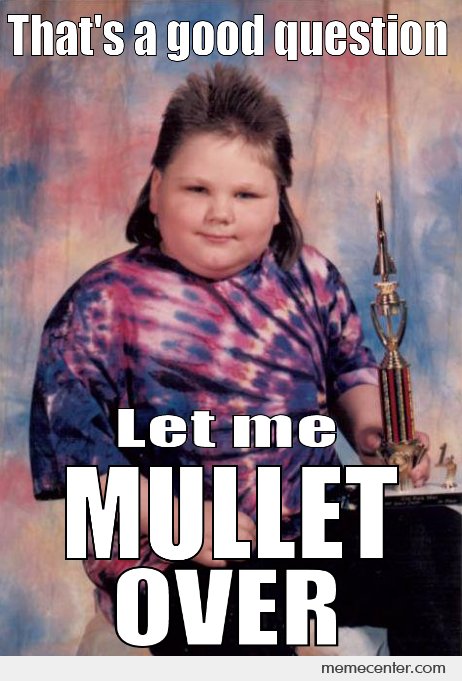 That shouldn't surprise to anyone because I'm just a random guy that grew a mullet, quit his job, and spends his days trying to become a big enough nuisance to people on the internet like Nate Silver.
You'll start to notice me writing longer and more detailed articles. I'm compiling a lot of the work I've done into different guides and topic overviews. I'm calling them "The Guide of X" as a crude way to make sure I am authoritative.
It feels a bit weird right now but I need to remind myself that if I don't think what I wrote is "The Best" then I need to make it the best if I want this blog thing to work. Already I'm starting to notice improved search traffic from Google so I'm hoping to have a solid update for you next month.
If you haven't yet, go look at my home page. It has the same layout but it will start to become much more static.
For a list of my upcoming projects, and to weigh in on what you want to see, my article backlog
Goals for August
Go live with the Sports Data Direct product and have 10 paying customers to start the NFL season.
Get cited by another blog –I'm shooting for the Business Insider Sports Section to reference my fantasy football analysis in a fantasy draft prep article but I'll settle for anything at this point.
Hit 30 upvotes on a reddit post
That's it. Ambitious as always. Let's see how it goes and enjoy the journey.
| | | |
| --- | --- | --- |
| 1. | ↑ | if you don't know what reddit is think of it as a crowdsourced site of trending topics. |
| 2. | ↑ | Another factor is the volume of posts submitted to dataisbeautiful. It's much easier to be knocked off the front page there. |
| 3. | ↑ | I assure you, I've purchased all the books on my book reviews and they are my honest reviews. A lot of books I've bought aren't on their because they are just not good books. |